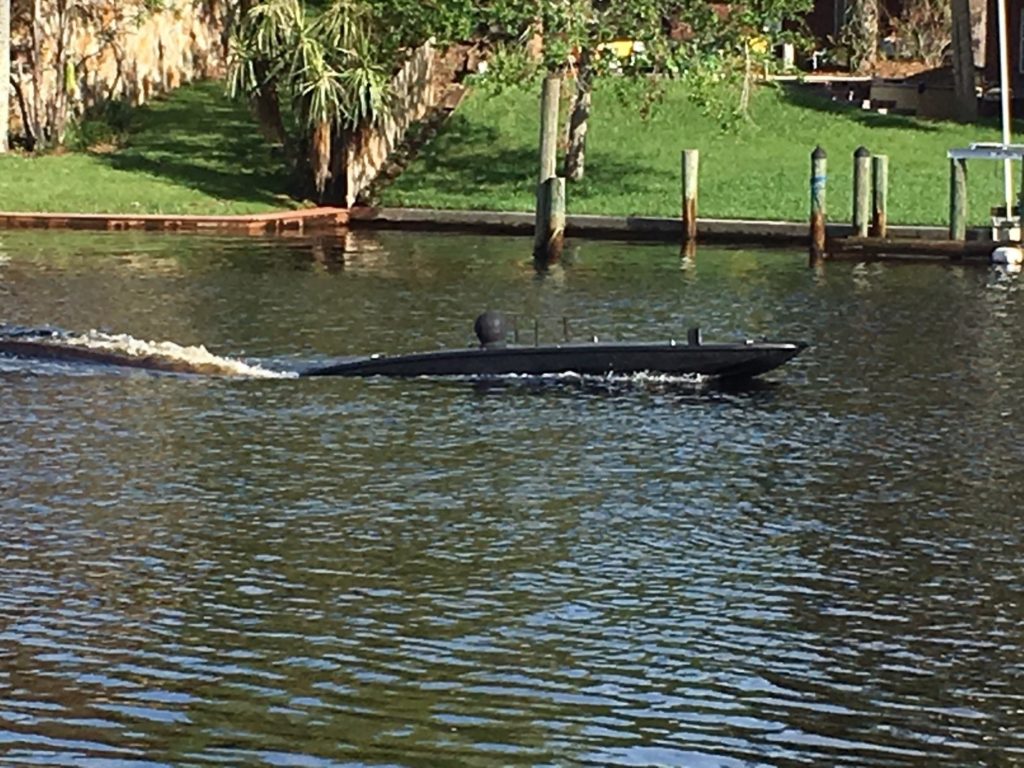 Occurring less than six months after the publication of the U.S. Navy's latest strategic document, Design for Maintaining Maritime Superiority Version 2.0 (Design 2.0), the recent Navy League SeaAirSpace Symposium and Global Maritime Exposition had a strong focus on the document's three Lines of Efforts (LOE) (Blue: Strengthen Naval Power at and From the Sea, Green: Achieve High Velocity Outcomes and Gold: Strengthen Our Navy Team for the Future).
Of the three, arguably the most "concrete," and one where the event's over-15,000 delegates could see the how the Navy intended to meet Design 2.0's ambitious goals, was Line of Effort Green: Achieve high Velocity Outcomes.
The reason for this was clear, LOE Green has a heavy focus on technology, and the SeaAirSpace Symposium exhibit floor was crowded with booths representing companies large and small displaying various new and emerging technologies that could help all the Sea Services (Navy, Marine Corps and Coast Guard) prevail in future conflicts against peer competitors.

The Navy's emphasis on technology isn't restricted to just Design 2.0, but has been seen in any number of speeches and statements by senior Navy, Marine Corps and Coast Guard leaders.
Early this year, in his keynote remarks at the U.S. Naval Institute/AFCEA "West" Symposium, Admiral John Richardson, Chief of Naval Operations, put a punctuation mark on the importance of developing new technology and getting to the Fleet when he noted, "Our strategic Achilles Heel is our inability to get new technology into the hands of our warfighters fast enough."
While there were a wide-range of technologies on display at the SeaAirSpace Symposium, unmanned systems enjoyed an especially prominent place on the exhibit floor.
This is not surprising, as unmanned systems represent some of the most cutting-edge and promising capabilities the Navy, Marine Corps and Coast Guard hope to harness to give them an advantage
against determined adversaries.
The reason for this is clear. Today, one of the most rapidly growing areas of innovative technology adoption by the U.S. military involves unmanned systems.
In the past several decades, the U.S. military's use of unmanned aerial vehicles (UAVs) has increased from only a handful to more than 10,000, while the use of unmanned ground vehicles (UGVs) has exploded from zero to more than 12,000. The use of unmanned surface vehicles (USVs) and unmanned underwater vehicles (UUVs) is also growing, as USVs and UUVs are proving to be increasingly useful for a wide array of military applications.
The exploding use of military unmanned systems (UxS) is already creating strategic, operational, and tactical possibilities that did not exist a decade ago.
This emphasis is on display Design 2.0's Line of Effort Green: Achieve High Velocity Outcomes.
The first pillar of LOE Green, "Rapidly Acquire Key Platforms and Payloads," calls out a short list of key
procurement objectives. Of the 16 programs identified for special emphasis, a total of seven are air, surface, or subsurface unmanned systems. Clearly, the Navy's commitment to these systems is strong.
But this goes beyond one document. 
The U.S. Navy's commitment to—and dependence on—unmanned systems is also seen in a series of "Future Fleet Architecture Studies." 
In each of these studies: one by the Chief of Naval Operations Staff, one by the MITRE Corporation, and one by the Center for Strategic and Budgetary Assessments, the proposed Navy future fleet architecture had large numbers of air, surface, and subsurface unmanned systems as part of the Navy force structure.
More recently, The Congressional Research Service Report, Navy Large Unmanned Surface and Undersea Vehicles: Background and Issues for Congress, emphasized the critical role unmanned
systems would play for the U.S. Navy, noting, in part: 
UVs [unmanned vehicles] are one of several new capabilities…that the Navy says it is pursuing to meet emerging military challenges, particularly from China.
UVs can be equipped with sensors, weapons, or other payloads, and can be operated remotely, semi-autonomously, or (with technological advancements) autonomously. They can be individually less expensive to procure than manned ships and aircraft because their designs do not need to incorporate spaces and support equipment for onboard human operators.
UVs can be particularly suitable for long-duration missions that might tax the physical endurance of onboard human operators, or missions that pose a high risk of injury, death, or capture of onboard human operators. Consequently UVs are sometimes said to be particularly suitable for so-called "three D" missions, meaning missions that are "dull, dirty, or dangerous."
At the SeaAirSpace Symposium this year, several industry booths featured unmanned systems of various types. And given that this Navy League event typically has a strong emphasis on ships and
the surface Navy, unmanned surface vehicles had a prominent role at the event.
While most of the unmanned systems were displayed as static objects to look at, one hands-on opportunity garnered a great deal of attention – especially from international delegates.
The FLIR Systems exhibit (booth number 2319) offered the symposium delegates a completely different experience. Over the course of the past several years, FLIR Systems has partnered with a
Florida unmanned surface vehicle manufacturer, Maritime Tactical Systems (MARTAC) Inc., in a number of military and civilian exercises, experiments and demonstrations. These events have proven the viability of having USVs equipped with high quality sensors perform some of the "dull, dirty and dangerous" work that can put humans in harm's way.
At the FLIR Systems booth, SeaAirSpace Symposium delegates had the opportunity to control – via a laptop computer – a MANTAS USV operating in the Florida Intracoastal Waterway approximately 650 miles away. Over the course of three days, scores of U.S. and international symposium visitors controlled the catamaran-style hull, modular construction 12-foot MANTAS USV equipped with a FLIR sensor and navigated it up and down the Intracoastal Waterway. A FLIR camera on shore enabled operators to see the MANTAS as it traveled. In many ways, this demonstration mimicked a recent Bold Alligator Navy-Marine Corps exercise.
Bold Alligator was a live, scenario-driven exercise designed to demonstrate maritime and amphibious force capabilities. 
The 2ndMarine Expeditionary Brigade (MEB) led the exercise and operated from dock landing ships USS Fort McHenry(LSD-43) and USS Gunston Hall(LSD-44); amphibious transport dock USS Arlington(LPD-24). 
During this exercise, the 2ndMarine Expeditionary Brigade used the MANTAS USV, equipped with a Gyro Stabilized SeaFLIR230 EO/IR Camera and a BlueView M900 Forward Looking Imaging Sonar to provide ISR (intelligence, surveillance and reconnaissance) and IPB (intelligence preparation of the battlefield) for the amphibious assault. 
Bold Alligator was played out over a wide geographic area. This included a Command Center at Naval Station Norfolk, Virginia, and operating units employing forces in a wide area of the Atlantic Ocean, North and South Onslow Beach, Camp Lejeune, North Carolina, as well as in the Intracoastal Waterway near Camp Lejeune.
During the Long Range Littoral Reconnaissance phase of Bold Alligator, Navy and Marine Corps operators at Naval Station Norfolk were able to remotely control six-foot and twelve-foot MANTAS USVs and drive them off North and South Onslow Beaches as well as in the Intracoastal Waterway. Once positioned, both MANTAS USVs streamed live, high-resolution video and sonar images to the command center at Naval Station Norfolk several hundred miles away. 
The latter capability is crucial in amphibious operations in order to ensure that a landing or other craft could successfully navigate a waterway or enter the surf zone without encountering mines or other objects. 
Having the ability to view these images in real-time enables decision makers not on-scene to make time-critical go/no go determinations. 
The value of providing commanders with real-time ISR and IPB is difficult to overstate, and it is likely that this capability will continue to be examined in other expeditionary exercises going forward. 
Importantly, this use of unmanned surface vehicles has a great deal of international interest. 
During the SeaAirSpace Symposium, delegates from Australia, Canada, France, Israel, Norway, Sweden and other nations visited the FLIR booth and operated the MANTAS as they clearly saw the benefits of using this type of small USV for their defense and security needs.
The U.S. National Defense Strategy has, as one of its three pillars, the importance of having the U.S. military work more closely with its allies and partners. As the United States embarks on this initiative, sharing common commercial-off-the-shelf technology is an effective way to further cement these relationships.
The U.S. Navy has signaled a commitment to leverage the work industry has already done to field
unmanned service vehicles and subject them to thorough "wringing out," military and civilian exercises, experiments and demonstrations.
Using this commercial-off-the-shelf technology can shave years off the acquisition cycle and get new tools in the hands of our warfighters much faster.
It is little wonder that Captain  Peter Small, the Navy's program manager for unmanned surfaced and subsurface vehicles in the Naval Sea Systems Command (PMS-406) noted during this same SeaAirSpace Symposium that, "We will bring in Navy program of record weapons systems to incorporate into commercially-derived modular craft."
He also explained how industry has been challenged to design scaled-up versions of current USVs (for example, MARTAC corporation is designing larger – 38 to 50 foot – USVs based on the 12-foot MANTAS) in order to achieve the kind of "Future Combatant Force" concept articulated in the Navy's Design for Maintaining Maritime Superiority Version 2.0.