MARTAC's MANTAS Medium Category Vessels, consisting of the MANTAS T24 (24 ft or 7m), T38 (38 ft or 11m), and T50 (50 ft or 15m) variants, will be fully operational and ready for customers this fall. This class is designed for larger scale operations and capabilities to integrate Unmanned Surface Vehicles (USVs), Unmanned Aerial Vehicles (UAVs), Unmanned Underwater Vehicles (UUVs) and Remotely Operated Vehicles (ROVs).
MARTAC's MANTAS Medium Category Vessels are dual-sponsor, high performance, fully autonomous unmanned surface vehicles (USVs) developed specifically for larger scale military, commercial and scientific operations. Like their smaller X-class category vessels, they are multi-role, multi-mode and multi-domain Unmanned and autonomous maritime systems adaptable to many military mission requirements including mine-countermeasure, anti-submarine warfare, electronic warfare, and ISR.
MANTAS is designed to operate beyond human capability – unavoidable, uncatchable and undetectable, MANTAS' speed, stealth, and maneuverability allow them to be an effective force multiplier for harbor/port and fleet operations. With burst speeds up to 80 kts, cruise speeds up to 50 kts and ranges from 600 to 1800 nautical miles or more, they are versatile platforms for both open ocean, littoral missions, and interior waterways. Their design and performance allow them to operate in sea states of 5+ and survive in sea states of 7+.
All MANTAS Medium Vessels are versatile, capable of launching and recovering UAVs, USVs, UUVs and ROVs to perform operations in the air, and on and under the water's surface. They can be configured with an indented aft deck that partially submerges in "Tail Gator" mode allowing for tow fish, UUV and ROV launch and recovery. Each variant has the capability to enter full "Gator" mode where they can submerge below the water in a "decks awash" mode to reduce visual, radar, and heat signatures.
The Medium Vessel MANTAS are deployable from shore or ship. They can be transported on a tilt trailer or launched from a ship with the same ship deployment and recovery characteristics as the 7 or 11 m RHIB commonly launched from many US Navy ships. They are also multi-domain operational being integrated into US military COPs with the ability to work with other integrated USVs.
As with all MANTAS variants, the medium vessel category are based on a modular and proven COTS open architecture. A single MANTAS can be expertly, rapidly, and safely tasked to perform Fast Intercept Attack Craft (FIAC), Mine Counter Measures (MCM), Intelligence, Surveillance, Reconnaissance (ISR), or Electronic Warfare (EW) missions.
Due to the easy-to-use TASKER Command and Control (C2) user interface and MantaNet multi-vessel operation, the medium vessel category can be networked and swarmed for operations over large coverage areas. And by launching MANTAS X-class USVs from larger MANTAS "mother ships" users can develop instant operational swarms.
These MANTAS Medium Vessels can also be configured for scientific and commercial missions such as hydrographic survey swarms, port/harbor security, search & rescue/ Humanitarian Assistance and Disaster Relief (HADR) operations, dam and reservoir integrity, and aquaculture monitoring and protection, to name a few.
MARTAC is debuting the first MANTAS T38 in San Diego during Trident Warrior Exercises from July 6 -7 and at Port Hueneme at Coast Trident from July 20 – 22. The Medium Vessel MANTAS will be available during the fourth quarter, 2020. For more information, go to martacsystems.com or click on the link (info@martacsystems.com) .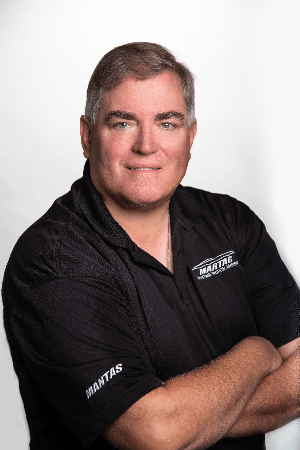 Chief Marketing Officer
Mr. Ferretti is a senior manager with a diverse background in sales, marketing and operations for consumer, technology and service companies.